Marketers are using digital more than ever and Christmas is no exception, with brands experimenting with social media and the latest digital innovations to tie their Christmas marketing in with the shopper experience. We had a look at some of the brands that are doing this and question whether the inclusion of digital makes the Christmas experience more magical for the user or whether it takes things too far from traditional and intensifies the cold commerciality of the season:
Heineken
From the 5-9th of December, Heineken rewarded it's top US tweeters with music, treats, décor and surprises as part of it's #SparkMyParty delivery service. Fans could tweet Heineken using the hashtag for a chance to win a Heineken special delivery, such as a live dj, an event photographer, a roomful of balloons or UBER gift cards that arrived at the homes of winning New Yorkers to help them 'get the party started'. Heineken jumps on board the home delivery trend as well as doing something festive which gives them visibility during the Christmas period, however the campaign pushes for consumers to have a good time celebrating the holiday season rather then just pushing sales.
O2
The gift hacker app from O2 allows users to pick a gift for a friend, or themselves, from a selection of electronic items on their website, and then create a Kickstarter-style page where they invite friends via email to contribute towards the total. The idea is a fun way of getting people to work together and pitch in to make a friends 'dream come true', however  the app lacks any Christmas sparkle and in effect seems a little cold, plus it does seem questionable whether a new power bank is really worthy of a Kickstarter campaign.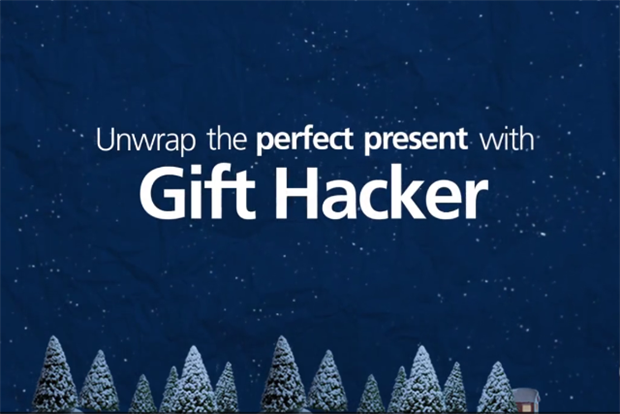 Sainsbury's
This mystery gift app from Sainsbury's runs through Facebook and allows users to send a free gift to a friend that could be anything from a mince pie to an iPad Mini. Of course both giver and receiver must accept the app which gains access to all your Facebook info, but apart from this the app seems all about the joy of giving.

Waitrose
The #BakeItForward campaign from Waitrose taps into the nations passionate baking community by encouraging customers to bake an item for a friend and nominate them to do the same for someone else. These home baked items are photographed and posted on social media with the tag #bakeitforward which creates a chain of goodwill focused more on giving rather than getting (although as a little added incentive, anyone who tags their post " could win prizes from Waitrose such as a hamper or champagne!).
Google 
Lots of brands have created a 'Santa Tracker' type app for the holiday season but Google's incorporation of Google Earth really brings the magic to life. Designed with children in mind, users access to an interactive village, and on Christmas eve watch Santa on google earth as he makes his massive trip delivering presents!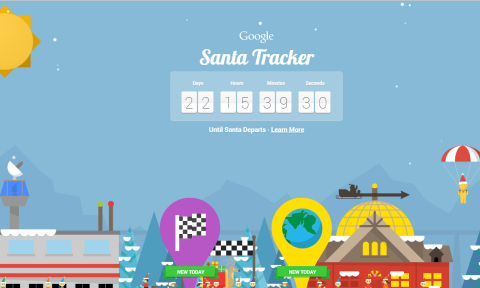 Whistles
Whistles' digital advent calendars have been fashionista crowd-pleasers for the past few years, as well as being one of the best data-capture campaigns around. Each day a new treat is revealed and to put yourself in with a chance of winning all that is needed is an email address. A nice, simple idea that promotes the current stock of the brand whilst also evoking a little excitement over the potential gift to ones self!
Canal Mirai Christmas Tree 
Although not connected to a brand, this is still a brilliant way of incorporating digital into the Christmas celebrations! In Fukuoka, Japan, the city created a Christmas tree for the digital age that allows visitors to decorate it thought smartphone taps! 'The Crystal Tree' is an interactive 3D hanging installation of LED lights that visitors can participate in decorating in real time though the accompanying Canal Mirai Christmas smartphone app that activates 4D animation to produce vibrant patterns and visuals. A leap away from the traditional and into the future, as well as a great way to involve the community and create interaction.
Argos
This year Argos have given the traditional Santa Christmas letter a digital twist with the launch of their 'wish-list' app for children which enables kids (with the help of a group of animated characters!) to create lists of gifts they might like to receive at Christmas by scrolling through pictures of products. Once they've made all their decisions, they can move them on to a mood board which they can personalise by drawing and placing stickers numbering their must-have items and is then "Sent to the North Pole". A great way to encourage family interaction (unless the child has his/her own smartphone) as well as drive sales by introducing children to an array of items they didn't even know they wanted, thus upping the peer pressure on parents who wont have any excuse for getting it wrong! A good marketing tool perhaps, but feels perhaps more about the presents than the magic of Christmas. 
Tesco
Designed to help with arduous gift decisions, Tesco have created a 'Secret Scan-ta' app that works by  reading a persons Twitter feed to identify key themes and interests that it then uses to suggest the 'perfect gift' that you can buy directly from Tesco. The gift suggestions are honestly, quite terrible, but that is part of the charm and in some ways adds to the fun! Although of course this was designed to increase sales and push Tesco's visibility, the app brings a little Christmas magic to the agenda with it's array of low key present suggestions as well as opportunities for users to win Club Card points and even bigger prizes such as a Samsung Galaxy S5!
Follow the link to our Christmas Pinterest board for even more festive marketing examples !